If you are interested in my room sprays please email me at folkartfromtheharbor@yahoo.com

IF YOU ARE SPENDING $30.00 OR MORE ON STENCILS DON'T FORGET TO TREAT YOURSELF TO ONE FREEBIE FROM THE FREEBIE CATEGORY
Your Freebie has to be in your cart on your original order ~ not in the notes section and not on your PayPal payment ~ I only honor Freebie when it is in your cart with a $30.00 or more purchase of stencils
Shipping in the USA up to $50.00 ~ $3.95 up to $100.00 ~ $5.95 ~ $101.00 up to $200.00 ~ $9.95 $201.00 and up $13.95 ~ All Intl shipping needs to be paid upfront ~ shipping is Priority Express INTL and starts at $40.95 and up ~ I will ship INTERNATIONAL 1 time per week
If you want USPS Priority Shipping you will have to pay the difference. ~ USPS Scheduled Carrier Pick Up ~ Depending on the size of your order shipping can be within 7 business days ~ stencils are cut in the order they are received
Newly Designed for one Fabulous Facebook Fan / Like and Share for a chance to win ~ 12x24 .007 mil Transparent Blue mylar reusable stencil My Drawing will be March 1, 2018
To Be Included In My Monthly Free Stencil Drawings You Have To Fan/Like Folk Art From The Harbor on Facebook - CLICK HERE.
NEW DESIGNS ADDED EVERY OTHER DAY LOOK UNDER NEW ITEMS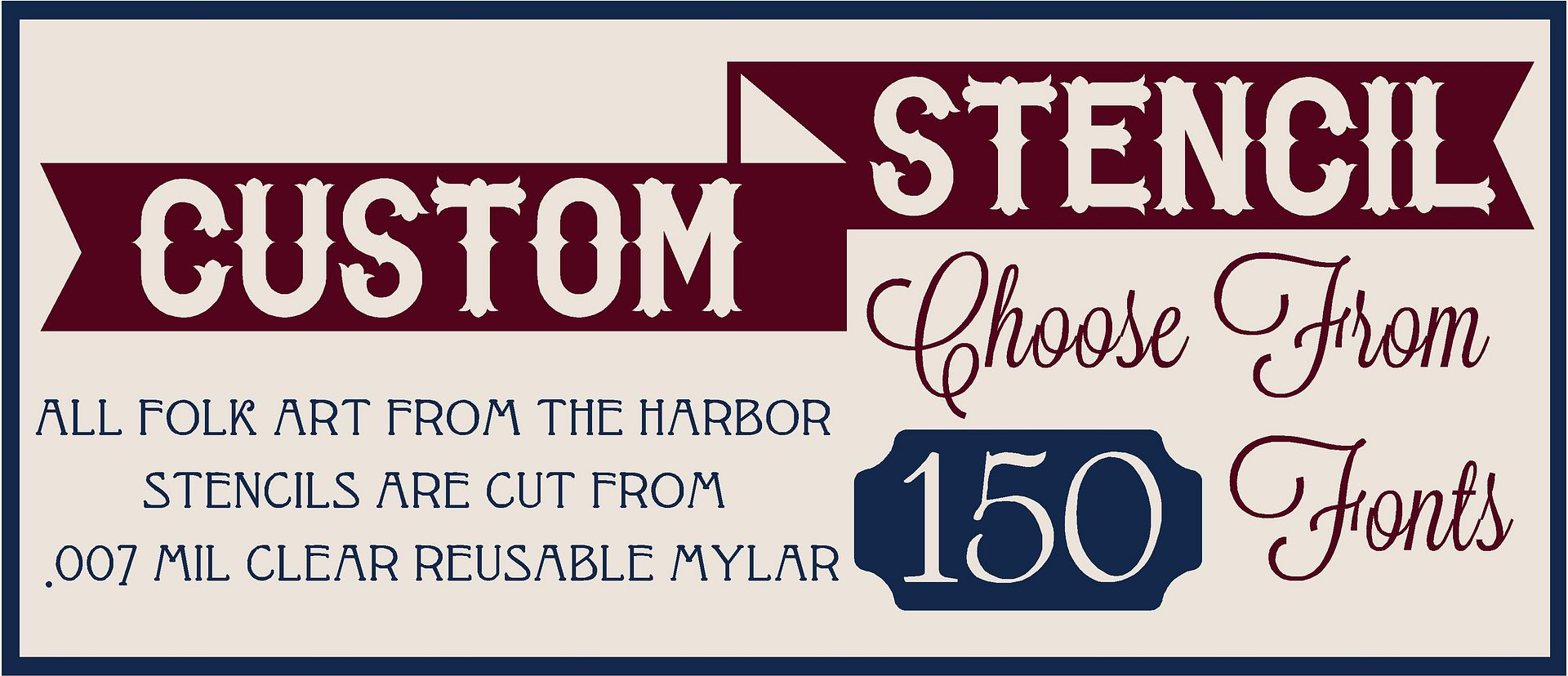 We Are Happy To Offer Custom Stencils Available for purchase with 150 Fonts And over 60 Sizes To Choose From *
Folk Art From The Harbor is Happy to announce A brand new category *FREEBIES* Easily qualify for your Free Gift* We Are Celebrating OVER 5000 Stencils And Growing Every Single Day*
IF YOU ARE LOOKING FOR UNIQUE STENCILS AT THE LOWEST PRICES YOU WILL FIND YOU HAVE COME TO THE RIGHT PLACE*
*Christmas Signs* Made by me using stencils from Folk Art From The Harbor*For Step by Step instructions with pictures please look under the Questions and Stencil Tips Button
*I OFFER FRESH AND NEW PHRASES WEEKLY AS WELL AS THE CLASSICS*
If that rare occasion arises where you feel you must return an item, please contact me within 3 days of receipt of your item. If the item is returned to us in the same condition as it was when it was sent to you excluding any shipping costs for which you were responsible, we will issue you a STORE CREDIT.The item has to be returned within 7 days of the date from which you contact us us regarding the return. Buyer is responsible for return shipping which will not be reimbursed for any reason.


PAYMENT

We accept all major Credit Cards, Bank Debit Cards and E Checks via Paypal.Paypal uses secure SSL Technology to insure your safety. You are not required to have an account through Paypal in order to use this check out.